6 Benefits Of Using Templates For Your Wedding Stationery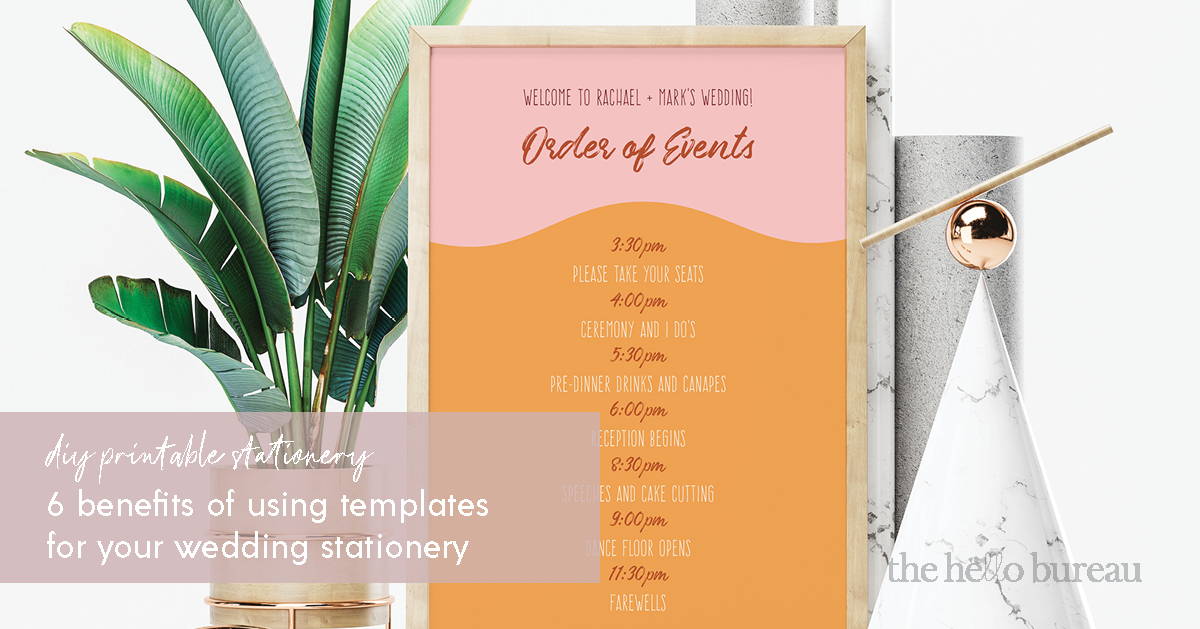 Pre-designed stationery templates are an effective low-cost alternative to hiring a designer to create your welcome signs, seating charts, and on-the-day stationery such as table numbers, place cards and signage.
All the templates at The Hello Bureau are fully customisable, which means you have complete freedom over the design of your items once you are in the editing program, Templett. Gone are the days where you have to stick with that ugly font on the design or the wrong colours!
Here we list the top 6 benefits of using a template to design your wedding stationery.
1. SAVES YOU MONEY
When you hire a stationery designer to create your wedding stationery, you are essentially paying someone to work their design magic to bring your ideas to fruition. If you're after something very personalised and unique, then this is definitely the way to go. There's nothing quite like custom designed stationery created specifically for your wedding. But if you're after something that looks good, is available immediately and is practical, then templates are the best way to go. Templates are much, much cheaper to purchase and you can still fully customise the design. The only difference is you have control over the design instead of paying a designer to do it for you.
2. SAVES YOU TIME
Templates are fantastic for last-minute people like myself who need their stationery NOW! In the event that you've accidentally left your on-the-day stationery to the day before the wedding, having access to templates means you can pretty much edit and print the files instantly at home or at your nearest print shop. If you go through a designer, sometimes they may be backed up with projects and don't have the time to make urgent amendments for you, which will delay the process.
3. DESIGN IT EXACTLY THE WAY YOU WANT
Sometimes it's difficult to explain to a designer what you are visualising and it usually takes a few rounds of revisions to get the right design. Even then, it may not be what you were imagining. With our templates you can start with a basic layout that we've designed and then edit it to exactly how you want it, down to the fonts and colours. You can usually have your desired design within a few minutes (or a few hours if you're into the details.) This will save you the time and hassle of weeks of corresponding back and forth with the designer with ideas and feedback. When you are planning a wedding with a million emails from all your suppliers, templates speed up the stationery design process so that you can tick it off your to-do list faster!
4. SET YOUR OWN PRINTING BUDGET

If you want to only spend a certain amount on your printed stationery, templates allow you to choose how you want your items printed. Perhaps you may want to get your large signage printed as black and white posters (which is usually about $20 in Australia) and then print your table numbers at home or office. Or you may want to get everything professionally printed and you can choose the type of paper stock that suits your budget. Online places like VistaPrint and Officeworks will have a variety of card stock for you to choose from.
5. MAKE LAST MINUTE AMENDMENTS EASILY
You know those instances where two days before your wedding, a guest suddenly can't make it and two unexpected guests that your mum invited are now coming to the reception? With templates you can easily type and print the two extra place cards immediately and even amend the seating chart in a few minutes. It takes the pressure off having to contact someone to make these small changes when you have the templates in front of you which are ready to edit.
6. YOU STILL HAVE ACCESS TO HELP FROM A STATIONERY DESIGNER!
If you run into any formatting issues with our templates, we are here to help you out! If there's something you can't do or don't know how to do, reach out to us and we can edit it for you. Need recommendations on where to send your files to print? Feel free to ask us! Just because you are using a template doesn't mean you are on your own in the world of design! :)
WANT TO PLAY WITH A DEMO OF OUR TEMPLATES? CLICK HERE! (WORKS ON PC ONLY)