How To Print Your Wedding Or Event Signage Online At Officeworks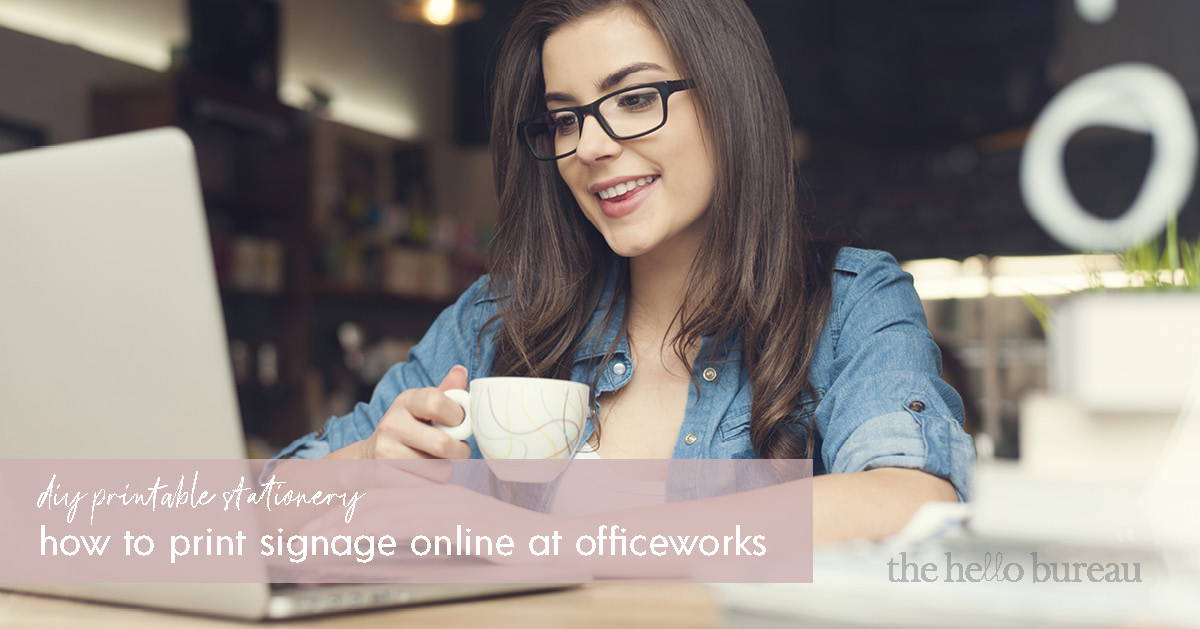 Ready to get your PDF files printed into the real thing on the Officeworks website? This is a simple process that will get your sign ordered and delivered in no time! This tutorial is to help you go from downloading your template to navigating the Officeworks printing system.


---


1. Downloading your template from Templett

Once you have finished editing your template, it's time to download the completed file in PDF format. Click on the 'Download' button in the top toolbar of the Templett screen and choose the 'PDF' option from the dropdown menu.


Next, leave both the 'Show bleed' and 'Show trim marks' options as 'OFF' and click 'Create PDF'.


Templett will do its thing and then you will see a notification on the right-hand side of your screen with a link to download your file. Click 'Download now' and it will automatically download the PDF into your downloads folder.


---


2. Ordering your sign online at Officeworks


Head to https://www.officeworks.com.au/print/print-and-copy/posters-and-plans and choose how you want to print your sign.
Click here to read a post on different signage types. 
For the purpose of this post, I'm going to select a corflute poster, which is the most popular option. Click the 'More details' button to get to the next screen.
The following screen will be your printing instructions. The 'Upload Your Design' tab will be selected by default, but in the off chance that it is not, select this tab.
Select a material: This is the thickness of the sign. Generally, 3mm is fine but I like to choose 5mm to give it more sturdiness. 
Select a size: Choose the size that applies to your template. Our templates include both A0 and A1, so choose the size that you downloaded. A1 is the most popular option for event signage. 
Eyelets: These are the two holes that go on top of the sign if you want to hang it. Officeworks gives you the option to choose whether or not you want them. Just check that you choose the correct option, as there's nothing worse than receiving your sign with eyelets when you don't need them!
Delivery: Choose from either getting it delivered to your home or picking it up from your local Officeworks store. At the time of publishing, Officeworks offers free metro delivery for orders over $55 (please see their website for the terms and conditions). 
Once that's all set, you're ready to upload your file! Click on 'Upload your design' and it will open up the next screen.
From here, find your downloaded PDF file on your computer and simply drag and drop your downloaded file into the 'Drop file here' area.
The program will upload the file and once your file is uploaded, you will get a confirmation notice.
Occasionally, you may receive a red warning message about the file being non-compliant. This usually happens if you've got images on your sign. Generally, 300 dpi is the recommended image quality but I find anything between 250-300 dpi is fine to print. 
 *****The Hello Bureau customers: If you get an error message regarding the dimensions of the file, email me and I'll resize it for you. The templates are designed to fit Officeworks requirements so there's usually no issue with it.*****
Once you're happy with it, click the 'Accept digital preview & add to cart' button at the bottom of the page.
And that's it! Woo! You've just ordered your own signage! Now sit back and wait for it to arrive in your hands! :)