With the revival of timeless romantic wedding stationery in modern times, there has been an upward trend in Australia for using wax seals for wedding invitations. Traditionally, wax seals were primarily utilised as formal signatures and later for ensuring the security of letters and important documents.
However, in today's era, wax seals have found a new purpose in embellishing stationery, offering a wide array of designs and colours to choose from. Whether you're seeking an elegant touch or a personalised flourish, wax seals provide the perfect accent for your stationery, adding an element of charm and sophistication to your paper goods.
If you're on the hunt for wax seals and sealing accessories, you're in luck. There are several reputable Australian and international suppliers that cater to your needs. In this article, we've compiled a list of some top-notch suppliers worth exploring.
Contents & Shortcuts
A Brief History of Signature Seals
Signature sealing is a technique dating back thousands of years. In ancient Mesopotamia, seals were originally stamped in clay to authenticate tablets. The emperors of ancient China also used seals stamped in cinnabar paste to officiate documents and contracts. During the Middle Ages, wax seals were popular as signatures for aristocrats and the wealthy. In this period, sealing wax was made from a mixture of expensive beeswax, Venice turpentine and vermilion colour pigment. As time went on, the use of beeswax in sealing wax was completely abandoned and wax seals eventually became cheaper and more widespread. Before gummed or peel 'n' stick envelopes were invented, it was common practice to use wax seals to secure envelopes and documents for posting.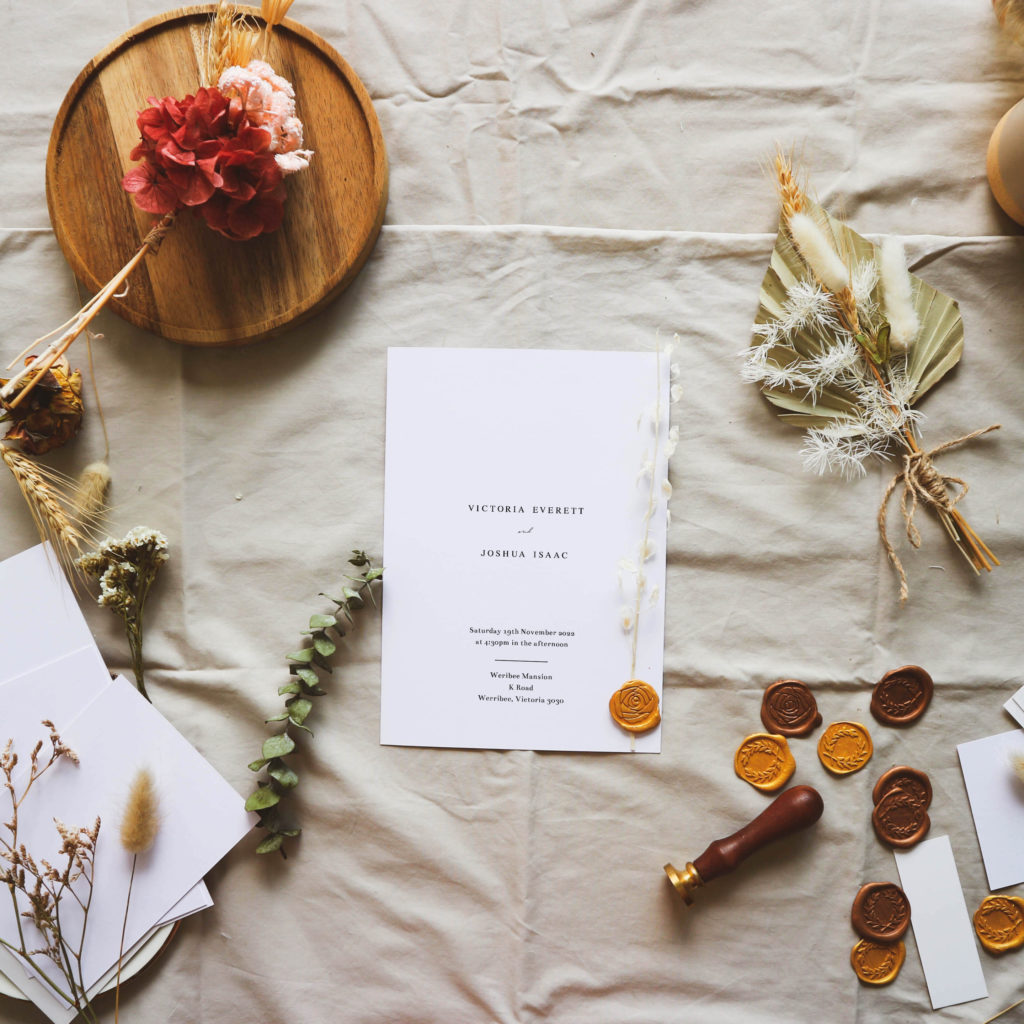 Where to Find Wax Seals in Australia
Thanks to the recent popularity of wax seals, it is now very easy to order a custom stamp and sealing wax in just a couple of clicks. Modern sealing wax is generally made from resin, paraffin wax and coloured pigments. Most sealing wax is vegan friendly and contains no animal products but it's best to double-check with the supplier if you are concerned. (Some wax products may contain beeswax or shellac.)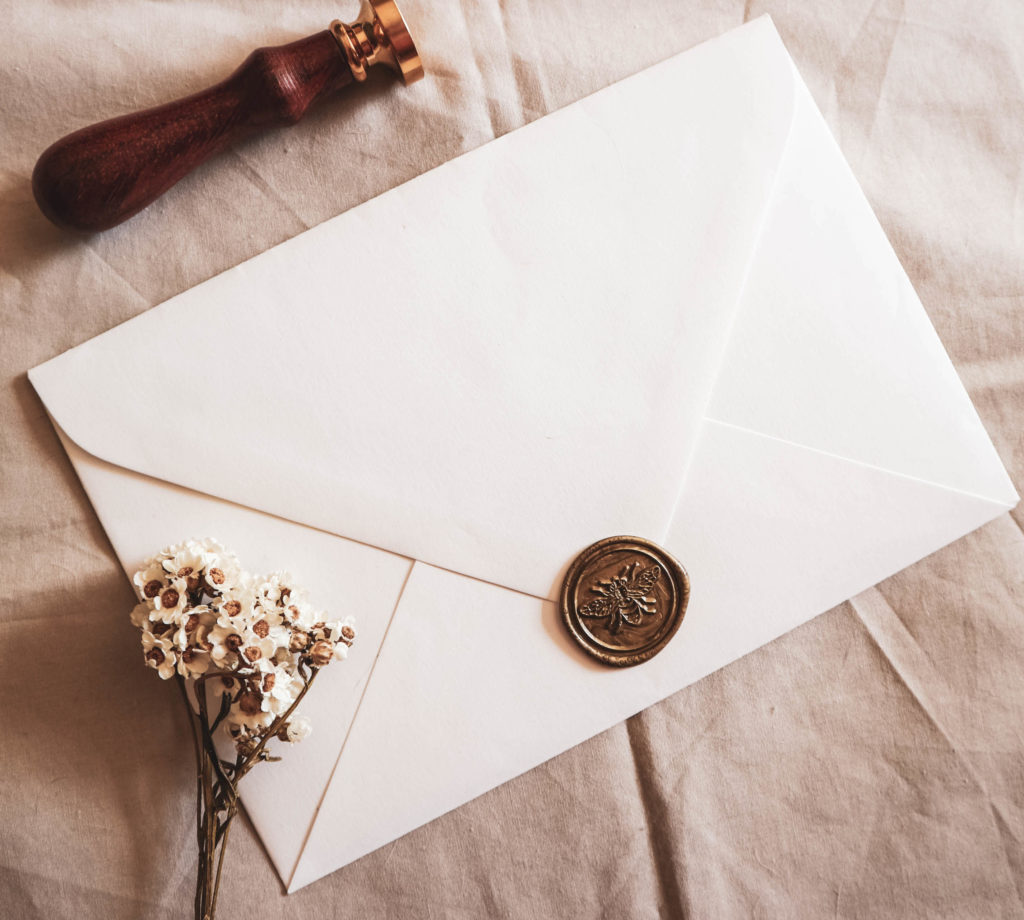 Listed below are some places that we recommend to our customers when it comes to finding wax seals for their stationery. Most of these places sell sealing kits and accessories as well.
Customised Wax Seals
For customised wax seals, the shops below are your go-to places. They can cater for bespoke orders such as a logo, wedding monogram, initials or illustration.
Sign And Seal Australia Etsy Store (Brisbane)
Sign and Seal Australia is a local business that excels in the art of crafting custom wax seals and paper embossers. With their expertise, they can bring any design to life. Each wax stamp is meticulously made to order and promptly shipped, ensuring a seamless customer experience. Their dedication to quality sets them apart. Whether it's for adding a touch of elegance to invitations or personalising important documents, Sign and Seal Australia is the go-to destination for exquisite and timely custom seals and embossers.
Bespoke Collection Etsy Store (Sydney)
Bespoke Collection specialises in crafting boutique stationery, invitations, and accessories to elevate your special occasion. Known for their luxurious and elegant style, they can bring any design alive. With a diverse selection of standard and semi-custom designs, they offer you the flexibility to create a bespoke design that truly reflects your wedding or stationery needs.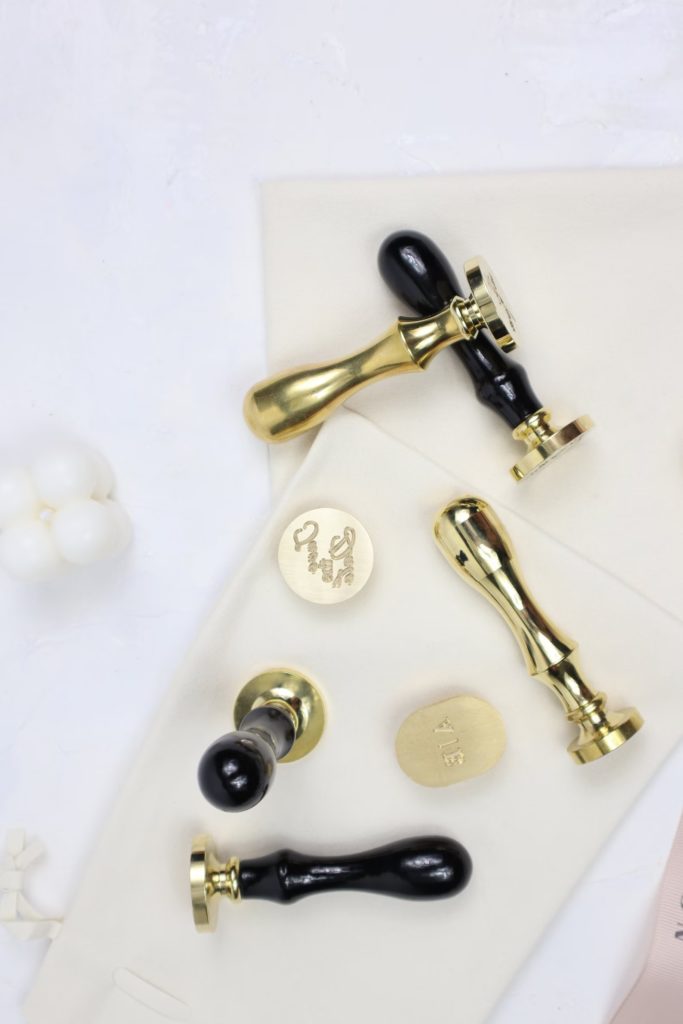 Custom Made Wax Stamp via bespokecollectionaus.
Inksy Etsy Store (Gold Coast)
Inksy, a creative studio specialising in letterpress and calligraphy, is your ultimate destination for all things luxurious and bespoke. As a one-stop shop, they offer a wide range of carefully crafted items that embody the essence of elegance. Their expertise extends to personalised wax seal stickers, each handmade in their studio. At Inksy, they embrace the concept of "Slow Stationery". Upholding the traditions of the past, they ensure that every piece is created with the same dedication and artistry as it was over 100 years ago.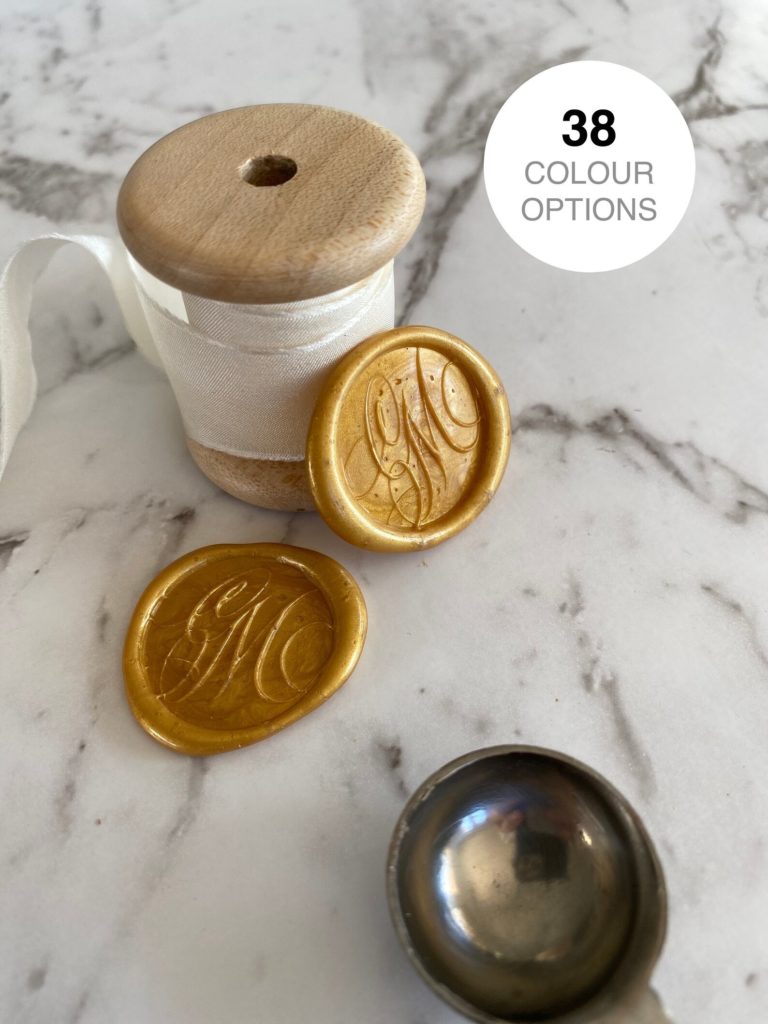 Custom Monogram via INKSYshop.
Kustom Haus (Melbourne)
At Kustom Haus, you have the freedom to bring your own custom designs to life or personalise one of their own unique designs. They offer a seamless experience, allowing you to create something truly one-of-a-kind. What sets them apart is their commitment to providing fast production times without any additional charges. Everything is made in-house and they will have your completed stamp shipped within a day or two. If you're in need of a quick turnaround, Kustom Haus is the perfect choice.
Il Papiro (Melbourne)
Il Papiro in Melbourne is dedicated to keeping the tradition of old-school stationery alive. Additionally, their commitment to preserving the art of handmade stationery is evident in every piece created by their skilled artisans in Florence, Italy. Among their remarkable collection, you'll find a stunning array of custom wax seals. Whether you desire a personalised single cursive font, double initial, or a bespoke image or logo, Il Papiro offers a diverse selection to suit every application and style preference. Discover the timeless beauty of handcrafted wax seals that add a touch of elegance and sophistication to any correspondence.
Pre-designed Wax Seals
Prefer something already created? These places stock beautiful ready-to-use stamp designs and wax seal kits that are perfect for any occasion.
Zetta Florence (Melbourne)
Zetta Florence is one of our favourite stationery stores to get supplies and their wax seal collection does not disappoint. With a huge collection of wax stamps, seal colours and accessories, you can find everything you need here. They are also a great store for gifts and their Boxed Wax Set is a massive hit with customers. Along with wax stamps and seals, you'll also find a gorgeous collection of handmade paper and envelopes that go perfectly with the wax seal aesthetic. We've documented one of our fun visits to the store, which you can read about here.
Fiona Ariva Etsy Store (Melbourne)
If you're after cute and fun wax stamp designs, make sure to check out Fiona Ariva. From koi fish to solar systems, the unique range of designs is sure to bring a smile to your face. Fiona Ariva also offers wax sealing kits that are perfect for beginners. These kits include everything you need to embark on your wax sealing journey with ease. If you find yourself in need of additional wax, Fiona Ariva has you covered with a wide variety of colours to choose from. Whether you prefer vibrant hues or more subdued tones, you'll find the perfect match for your creative endeavours.
Sea and Paper Etsy Store (Melbourne)
When it comes to modern wax seal stamp designs for any occasion, Sea and Paper has an expansive range that will surely impress. Their shop is a treasure trove, offering an abundance of tools and accessories to enhance your wax sealing experience. From unique seals to practical aids, Sea and Paper has everything you need to embark on your wax sealing journey with confidence. Moreover, their selection extends beyond seals, as they also offer luxurious silk ribbons that perfectly complement your stationery.
Self-adhesive Wax Seals
No time to make your own wax seals? You can purchase pre-made wax seals that have self-adhesive stickers on the back. Just peel and stick. Another bonus of using pre-made wax seals is that there is no mess and each wax seal will be as perfect as wax seals can be.
Meadow Seal Stationery Etsy Store (Melbourne)
Meadow Seal Stationery possesses an extraordinary talent for crafting breathtaking wax seals, including designs that expertly blend dried florals and gold foil elements. The result is a collection of seals that are both enchanting and visually captivating. Every wax seal is handmade, using only the finest quality wax ingredients, ensuring a premium product that exudes elegance and charm. These seals are particularly perfect for enhancing the beauty of wedding or engagement invitations, adding a touch of sophistication and allure to these special occasions.
Invited in Style Etsy Store (Adelaide)
Invited in Style is the ultimate shop for all your DIY invitation and stationery needs. Their comprehensive wax seal collection includes a wide range of convenient and ready-to-use wax seal stickers. With over 40 different colours and 50 distinct stamp designs to choose from, you'll have no trouble finding the perfect combination to suit your unique style and theme.
Brushed With Gold Etsy Store (Melbourne)
The translucent wax seals from Brushed With Gold never fail to captivate us with their stunning beauty! Each seal is a true work of art, perfectly handcrafted using fresh individual blossoms. In addition to these exquisite creations, Brushed With Gold offers a range of wax seals made with dried petals and delicate gold flakes. These charming seals are the perfect way to infuse your invitations and stationery with a touch of creativity and elegance.
International Wax Seal Suppliers
La Pomme Et La Pipe Press Etsy Store (France)
La Pomme Et La Pipe Press is undeniably one of our most favourite Etsy shops, especially for sourcing French romance and antique wax seals. The intricate designs available in this shop serve as perfect complements to timeless invitations and stationery. Each handmade wax seal showcases stunning delicate florals, exquisitely detailed crests, and enchanting antique patterns. Whether you're seeking a touch of elegance or a hint of nostalgia, La Pomme Et La Pipe Press offers an exceptional selection of wax seals that will elevate any correspondence to a new level of beauty and sophistication.
Artisaire Etsy Store (Canada)
Artisaire undoubtedly stands out as the frontrunner when it comes to wax seal designs. Renowned globally for their exceptional quality and extensive product offerings, Artisaire exceeds all expectations and caters to every sensory desire. Along with a vast catalogue of unique designs, their collection encompasses a rainbow of sealing wax colours and an impressive array of self-adhesive designs.
Sweet Ophelia Designs Etsy Store (UK)
If you're in search of floral and foliage wax seals, Sweet Ophelia Designs is the perfect destination. Their collection houses a delightful array of dainty and intricately detailed designs. Their self-adhesive seals comes in a variety of modern colours to suit every colour palette. It's no surprise that they are highly sought after by wedding stationery customers who are looking to add a touch of charm and elegance to their invitations and envelopes.
—
Please note that some of the links in this post are affiliate links and any purchase made through the links will give us a small commission (at absolutely no extra cost to you). These are brands that we trust and choose to recommend because we love what they do. Please read our Affiliate Disclaimer for more info.