If you're looking for some free printable guest book signs, you've arrived at the right place! Easily print your own guest book signs for your wedding with these free PDF printables that we've designed.
Each download comes with both JPG and PDF files in four sizes – 5″x7″, 8″x10″, A4 and A5. Simply click on the links and the ZIP folders will download automatically.
P.S. Not sure how to print these to fit your printer page? Check out our blog post here on how to print PDF files with trim marks.
1. Modern Handwriting Guest Book Sign
This modern and versatile guest book sign is a perfect fit for a wide range of different wedding styles. Whether you're hosting an elegant affair or a chic inner-city cocktail party, this sign adds a touch of contemporary elegance to your table.
2. Whimsical Script Guest Book Sign
The delightful and playful font chosen for this guest book sign is absolutely perfect for whimsical weddings. The script font effortlessly captures the joyful essence of such occasions. Furthermore, its charm extends beyond weddings. It is also an ideal choice for a variety of events including engagement parties and even housewarmings.
3. Fun Heart Guest Book Sign
While initially designed with rustic weddings in mind, this guest book sign effortlessly adapts to any wedding theme or style. The inclusion of a heart symbol adds a playful and cute touch, making it a delightful addition to your special day.
4. Vintage Heart Guest Book Sign
For this guest book sign, we opted for a lovely vintage 70s font, adding a touch of nostalgia and charm. It perfectly complements laid-back weddings, exuding a relaxed and inviting atmosphere.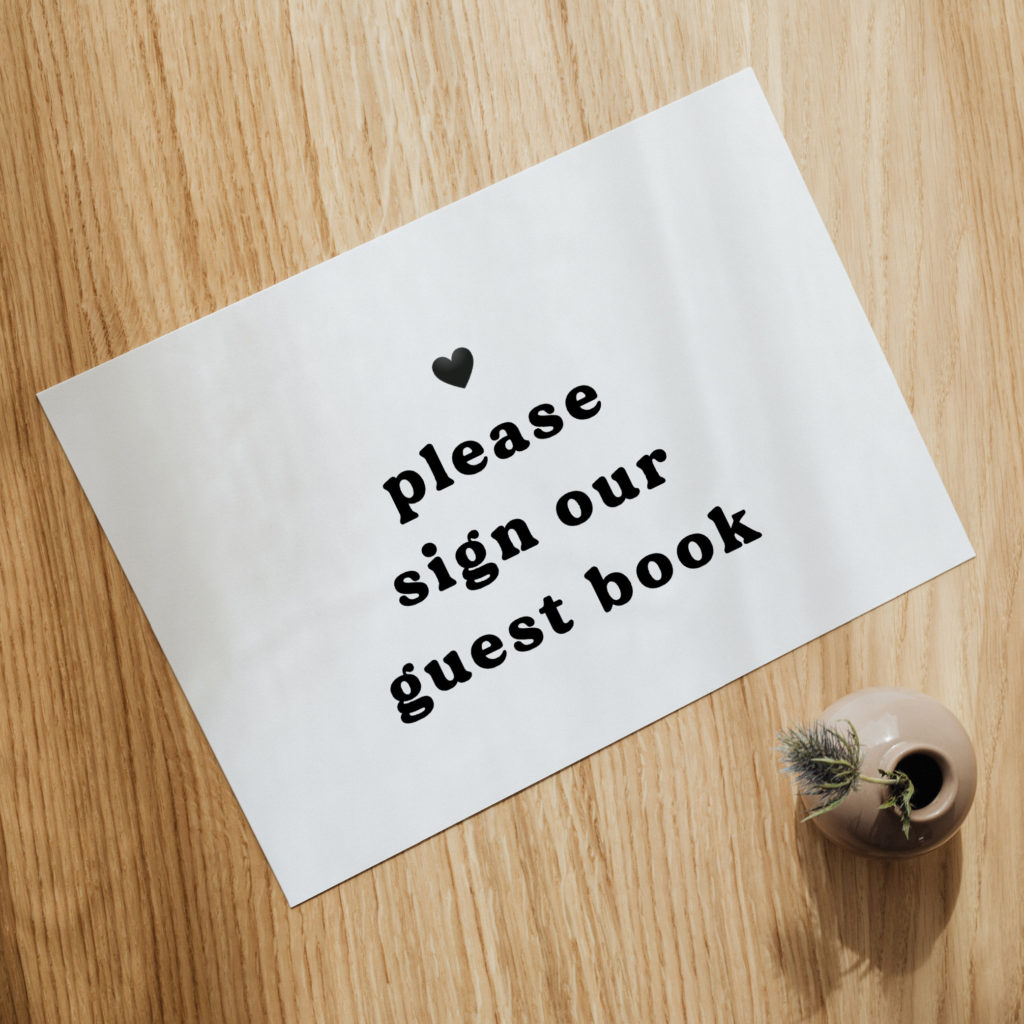 5. Fun Modern Handwriting Guest Book Sign
This sleek and sophisticated sign is designed for weddings with a modern aesthetic. Its typography makes it a seamless fit for weddings characterised by a sleek, urban, or industrial ambiance. Whether you're planning a chic city wedding, a trendy rooftop celebration, or an art gallery-inspired affair, this guest book sign will effortlessly complement your modern vision.
Enjoy!
We love creating wedding and event stationery and these free printable guest book signs were designed so that we can share the stationery love.
We believe in practicality and affordability – everyone should have access to beautiful stationery without hefty price tags.
These printable files are free for anyone to use for their event – we just kindly ask that you don't resell or reproduce this design for commercial purposes.