Are you ready to take your next party or event to the next level? Download our free printable grazing table signs from our 'Autumn' collection! These signs are the perfect addition to any gathering and will surely dress up your table. With their beautiful modern design and eye-catching colours, they will add a touch of elegance to your grazing table.
The best part about these signs is that they are absolutely free! Simply download them, print them out, and voila! These free printable grazing table signs come in a variety of colours, so you can easily find one that matches the aesthetic of your event.
Whether you're hosting a rustic outdoor wedding or a chic cocktail party, there's a sign for every occasion.
Each download comes with 6 PDF files in the following page sizes:
5″x7″
8″x10″
11'x14″
18″x24″
A4
US Letter
To learn how to print these files on your home printer with trim marks, check out our article here.
1. White Grazing Table Sign
Whether you are hosting a birthday party, a wedding reception, or even just a casual get-together with friends, this sign will elevate your grazing table to a whole new level. The classic white design is sleek and elegant, making it suitable for any theme or decor. It will seamlessly blend in with your table setup and add a touch of sophistication to the overall ambiance.
2. Black Grazing Table Sign
Are you planning an evening gathering such as a cocktail soirée? You can't go past an elegant black sign. With its timeless aesthetic, this sign exudes refinement and charm, adapting flawlessly to any theme or setting.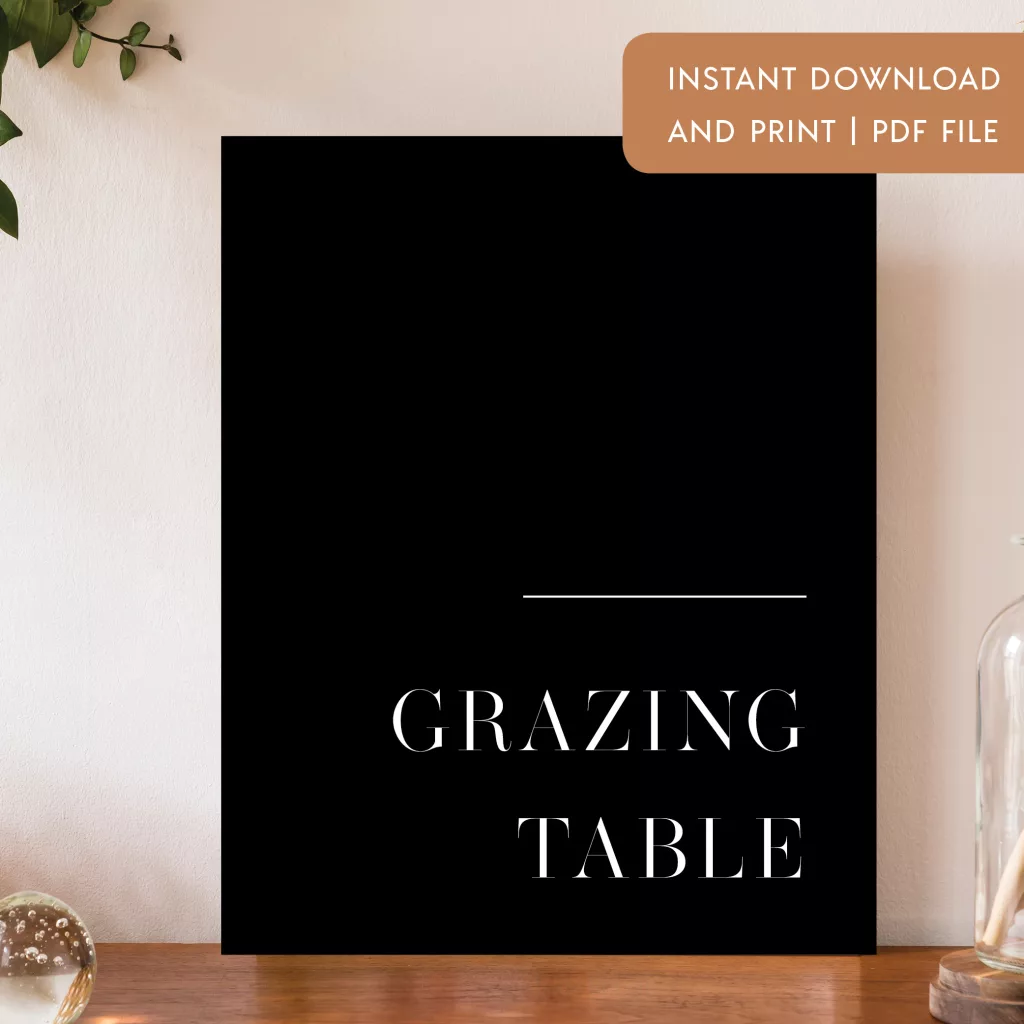 3. Burnt Orange Grazing Table Sign
Burnt Orange is the perfect shade for any daytime or boho-style event. Whether you're curating a sunlit affair or embracing the free-spirited bohemian vibe, Burnt Orange emerges as the quintessential choice. Its warm and earthy tones infuse a sense of vibrancy into your occasion. With its versatile charm, this shade seamlessly adapts to both casual and boho-themed setups, casting an inviting glow that resonates with the heart of your event.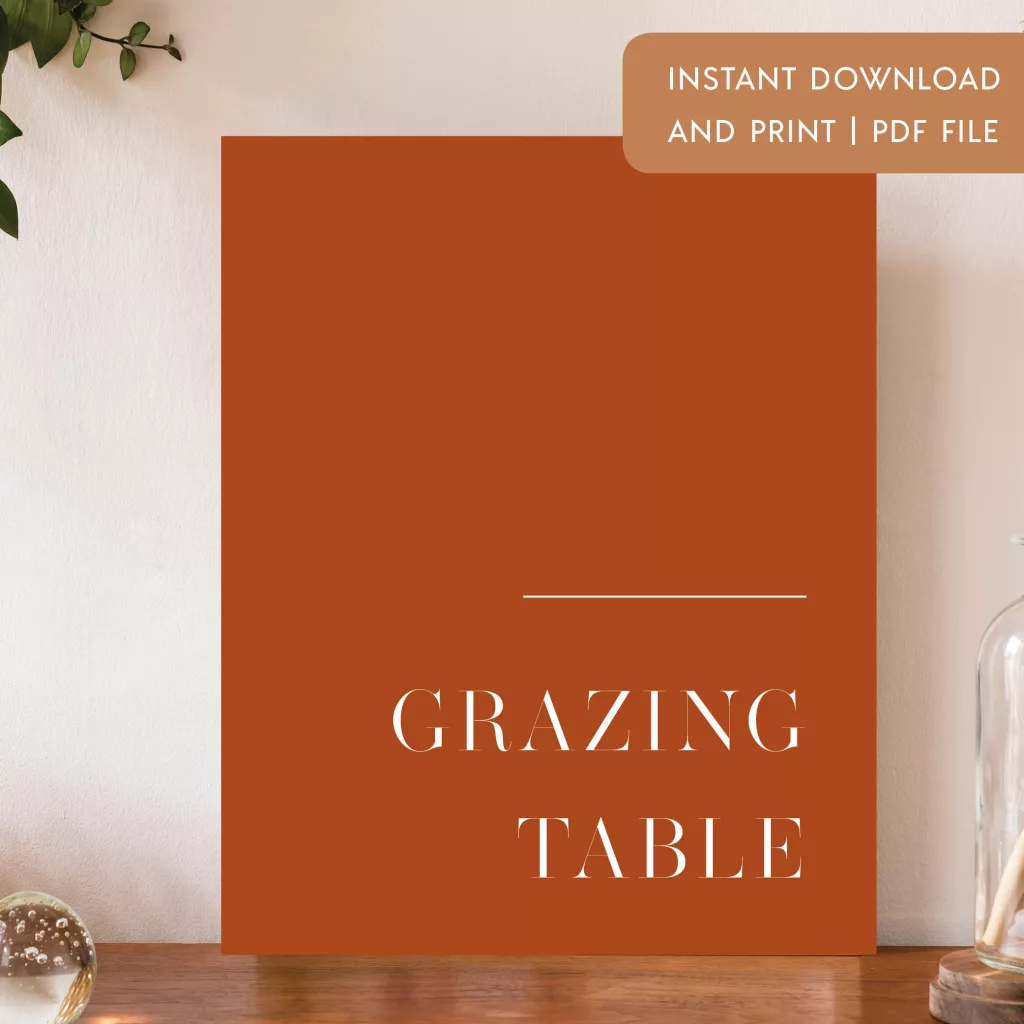 4. Rose Pink Grazing Table Sign
Who doesn't love a bit of Rose Pink? It's the perfect shade for bridal showers, baby showers and birthday celebrations. This delicate and captivating shade possesses a unique power to infuse an air of sophistication and tenderness into any event. The colour's versatility can enhance even the most casual of get-togethers with an understated touch of refinement.
5. Almond Grazing Table Sign
For those seeking an alternative to the pristine white aesthetic, the Almond-coloured grazing table sign presents itself as the ideal option. With its gentle and neutral undertones, Almond effortlessly harmonises with earthy, coastal, and neutral design schemes. This versatile hue gracefully transcends the boundaries of traditional choices, offering a canvas that seamlessly integrates into a variety of settings.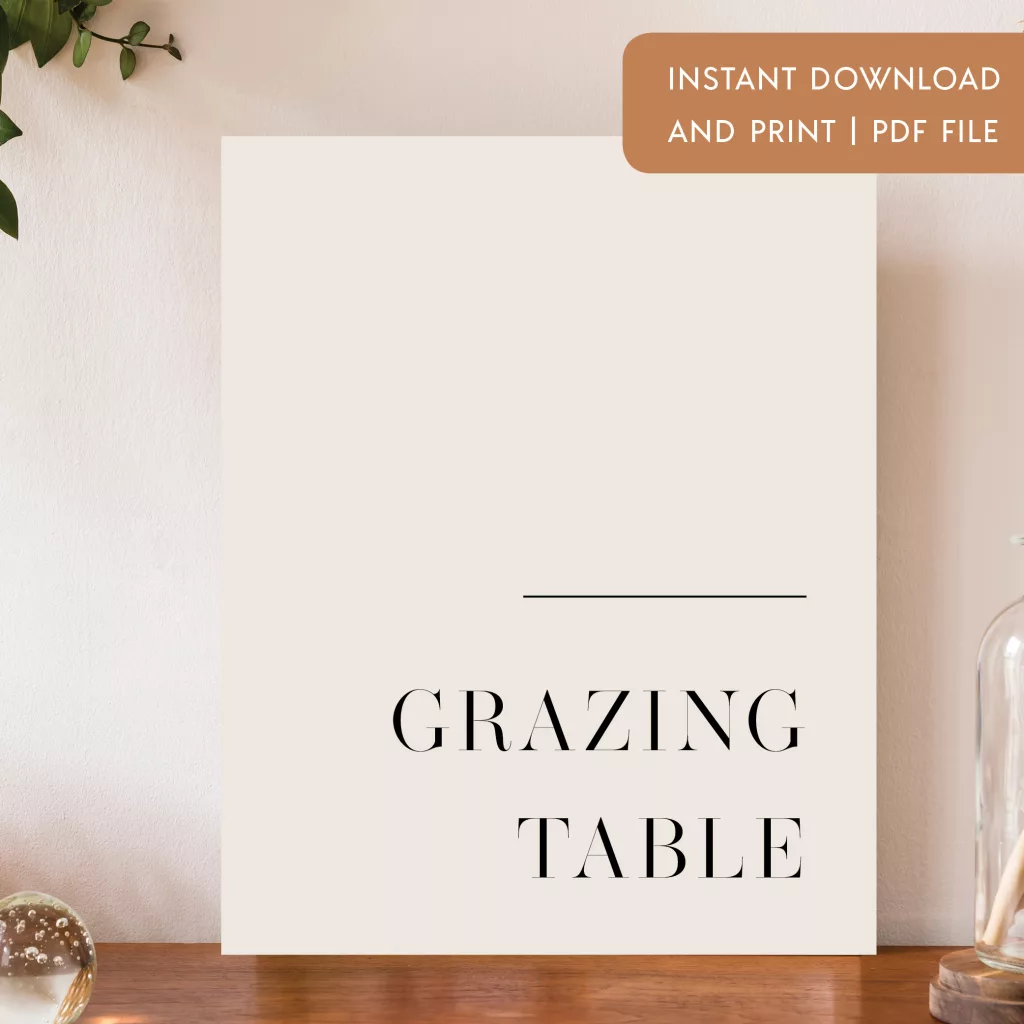 Enjoy!
We love creating wedding and event stationery and these free printable grazing table signs were designed so that we can share the stationery love.
We believe in practicality and affordability – everyone should have access to beautiful stationery without hefty price tags.
These printable files are free for anyone to use for their event – we just kindly ask that you don't resell or reproduce this design for commercial purposes.