Are you tired of scouring the internet for high-quality stock photos to use in your projects? Trust me, I've been there! After trawling through bucketloads of bad and cheesy stock photo websites, I've shortlisted eight platforms that actually have decent images. In this post, I'm going to share with you my go-to websites for finding stock images to brighten up my designs and blog articles. I'll guide you to my favourite sources for free stock images, and for those seeking more polished and professional photos, I'll also provide a list of premium platforms.
Free Stock Photo Websites
If you're on a tight budget or simply require images for your blog, free stock photo websites are a great option. These platforms offer a vast selection of high-quality images that you can use for personal and commercial purposes, often under a Creative Commons license. And, yes, they can be downloaded without a watermark. Just make sure you check the licensing agreement, as each website has their own terms and conditions.
One popular free stock image website is Unsplash. Unsplash boasts a massive collection of over a million photos contributed by talented photographers from around the world. The platform is known for its stunning landscapes, breathtaking nature shots, and captivating lifestyle images. Whether you're looking for images for your blog, website, or social media posts, Unsplash is not to be missed.
Pexels is a personal favourite of mine. If you're looking for stock images with a modern and trendy vibe, Pexels is worth checking out. Pexels offers a curated collection of high-quality images that are both aesthetically pleasing and on-trend. The platform also features a handy Canva editor tool that allows you to customise your chosen images directly in your Canva account.
I mainly use Rawpixel for its amazing collection of free vintage public domain images. I love to source images of old paintings (such as Monet) and Rawpixel is the perfect place for that. With a focus on creativity, Rawpixel offers a diverse range of content that is more artistic in nature. If you're looking for visual artwork, illustrations, graphic elements, patterns and fonts, definitely give Rawpixel a visit.
Another excellent source of free stock images is Pixabay. Pixabay offers a vast library of over 1.8 million royalty-free images, illustrations, and vectors. With its user-friendly interface and powerful search engine, you can easily find the perfect image for your project. From business and technology to nature and travel, Pixabay has a wide range of categories to explore.
Premium (Paid) Stock Photo Websites
While free stock image websites offer a vast selection of images, sometimes you need something more exclusive or specific to your project. In such cases, paid stock image websites can provide you with premium-quality images that are not available elsewhere. I truly believe that investing in premium paid photo websites is an invaluable choice for commercial work, and here's why.
Firstly, the quality of the visuals is unmatched. Premium platforms curate their content meticulously, ensuring that every image meets high standards in terms of resolution, composition, and overall appeal. This is crucial for creating a professional and polished look in commercial projects. The last thing you want when printing 5,000 brochures is for the images to come out pixelated and blurry.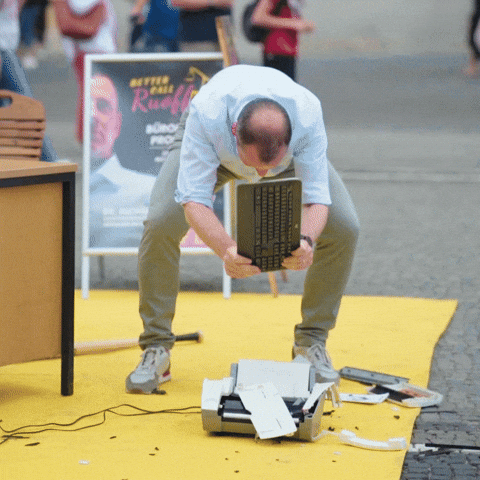 via FDP München on GIPHY
Secondly, the licensing terms offered by these platforms are often more comprehensive, providing the legal peace of mind necessary for commercial use. Moreover, the range of content available is incredibly diverse, catering to a wide array of industries and niches. This versatility saves time and effort in sourcing the perfect visuals.
Lastly, premium paid photo sites offer exclusive and unique content that can set your commercial work apart from the competition, helping your brand or project stand out in a crowded marketplace. In essence, the investment in premium photo sites is a wise choice for anyone serious about achieving exceptional results in their commercial projects.
Shutterstock stands out as one of the leading paid stock multimedia websites, and while it may not be the most budget-friendly option, I personally find it worth the investment. I have a monthly subscription and use it when I can't find anything on the free websites. Boasting an expansive library of over 350 million images, videos, and music tracks, Shutterstock caters to a broad spectrum of themes, styles, and niches. Whether you're in search of visuals related to business, lifestyle, nature, or technology, you'll discover an extensive and diverse selection within Shutterstock's comprehensive collection.
If you're after something that's more creative, editorial and aesthetically-pleasing than just regular staged stock photos, Alamy will not disappoint. Perfect for commercial work, Alamy stands out in the crowded field of stock photo platforms due to its unique and unconventional collection of imagery. What sets Alamy apart is its commitment to offering a vast and eclectic array of photographs, illustrations, and videos sourced from a global network of contributors, including professional photographers and independent artists. Alamy's flexible licensing options and straightforward pricing structure make it an excellent choice for a wide audience, from individual designers and small businesses to large corporations and editorial teams.
For those in the creative industry, Adobe Stock is a popular choice. Adobe Stock is a true gem for designers like me who are part of the Adobe Suite ecosystem. Its seamless integration with Adobe software makes it a perfect match for creative professionals. What I love most about Adobe Stock is the instant access to high-quality templates and assets. There was once where I had to make a slideshow video and had no idea how to create the transitions that I wanted. Thankfully, I discovered a suitable template on Adobe Stock, allowing me to create the slideshow in Premiere Pro effortlessly. This savvy template not only saved me approximately $200 that I would have spent on hiring a multimedia designer but also made my project a breeze to complete.
Getty Images is another well-known platform that provides high-quality essential stock images. Known for its extensive coverage of news, entertainment, and sports events, Getty Images offers a wide range of editorial and creative content. In my opinion, the stock photos found at Getty Images are most suited to editorial, marketing and corporate graphic design work.
—
Please note that some of the links in this post are affiliate links and any purchase made through the links will give us a small commission (at absolutely no extra cost to you). These are brands that we trust and choose to recommend because we love what they do. Please read our Affiliate Disclaimer for more info.