Can we just take a moment to swoon over the breathtaking setting of Stones of the Yarra Valley? This amazing location is where Aindrea celebrated her bridal shower with her close friends. The group got together for a delicious luncheon to celebrate her upcoming "I do's."
We were the lucky ones chosen to design all the fabulous on-the-day stationery. And let's be honest, we were beyond thrilled to be entrusted with it! Our imagination was flowing, and we drew inspiration from bohemian florals that perfectly matched Aindrea's laidback and fun style.
The result? A lineup of cohesive stationery that complemented the vibe of her bridal shower. This included a warm and inviting welcome sign, a selfie frame for keepsake photos, place cards for the table, and personalised bridal shower games that brought on the giggles.
In this blog post, we're spilling the beans on how each piece came to life and our design process.
The Welcome Sign
Welcome signs are an essential element of any event, and when it comes to bridal showers, they are no exception! A well-designed welcome sign not only sets the tone for the event but also adds an air of formality. When guests first arrive and see a welcome sign, it gets them excited to be a part of the celebration.
Aindrea's welcome sign was inspired by beautiful bohemian florals, which brought a touch of whimsy and romance to the occasion. It served as a visual representation of her personality and the fun tone of the event.
The vibrant colours and delicate florals perfectly captured the essence of the lunch event, making everyone feel right at home.
The Selfie Frame
What adds to the enjoyment of taking photos at a celebration? A selfie frame, of course!
This happened to be our first-ever selfie frame and it was pretty exciting to create. But, we did run into a slight issue. Our printing partner regretfully informed us that they lacked the necessary equipment to cut out the frame.
So, what did we do? With the deadline looming, we literally took matters into our own hands!
We designed the sign with cutting guidelines and resorted to traditional methods, employing a boxcutter and metal ruler. Although it presented some challenges, we're happy to say that we successfully completed the task!
The Place Cards
Keeping in mind the overall theme and style, we ensured that the place cards matched the rest of the stationery.
We incorporated the same vibrant pink bohemian floral illustration to keep the design cohesive. The fonts used for the place cards were also carefully selected to mirror those used throughout the entire stationery suite.
By paying attention to even the smallest details, we ensured that every little aspect seamlessly fit right in, making it all feel like a perfect match.
The Printed Games
In addition to the decor stationery, we decided to add some fun and excitement into the event. We achieved this by designing and printing customised bridal shower games.
These unique games were enclosed in personalised covers, complete with each guest's name. Not only did this add a personal touch to the festivities, but it also created a sense of anticipation and excitement amongst the guests. With our fun and interactive stationery, we aimed to create an atmosphere where laughter and joy flowed freely.
Games are a wonderful way to break the ice! They ensure that all guests feel included throughout the event.
By going beyond the typical stationery and incorporating these exciting bridal shower games, we were able to create a memorable experience for both Aindrea and her guests.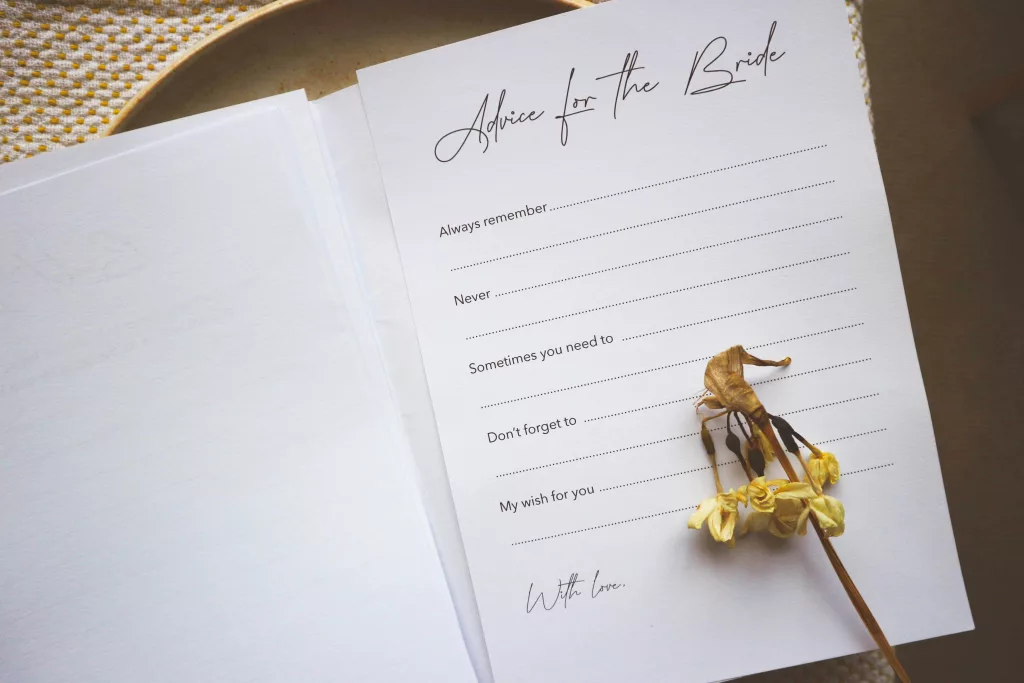 —
The Hello Bureau is a creative design studio in Perth, Australia specialising in wedding and event stationery. With over 10 years experience in the industry, we seek to share our knowledge to help you with your creative wedding and event stationery projects. If you're interested in bespoke stationery for your wedding or event, please send us an enquiry.