Working on 'Arrow's First Trip Around The Sun' project was an absolute delight! As a designer, I always look forward to creating something unique and beautiful, and this project gave me the perfect opportunity to do so. This was definitely one of the cutest and most fun projects I have had the pleasure of designing.
When Avigail reached out to me on Etsy, I knew we were in for a memorable experience. She wanted custom printable stationery for her little one's first birthday party and I was more than happy to help.
The design brief was clear – to incorporate different organic shapes with a vintage colour palette. I could already picture the rustic charm that the stationery would exude. However, what made this project stand out was the sunny theme that added a playful element to the design. I drew inspiration from the 70's-style aesthetic and the location of the party, Mission Viejo in California. It proved to be the perfect combination for the stationery design.
The Invitation
The first part of the project was designing the invitation card, which became the foundation for the rest of the stationery. It was crucial to create something that would set the tone for the party and get everyone excited. The invitation card had beautiful organic shapes with warm colours that complemented each other beautifully. The address has been changed for privacy.
The On-The-Day Stationery
Once the invitations were sent out, my attention shifted to the party stationery. This consisted of two small signs and food labels.
The Signage
The signs were specifically designed for two distinct tables: the favours table and the mobile-making table.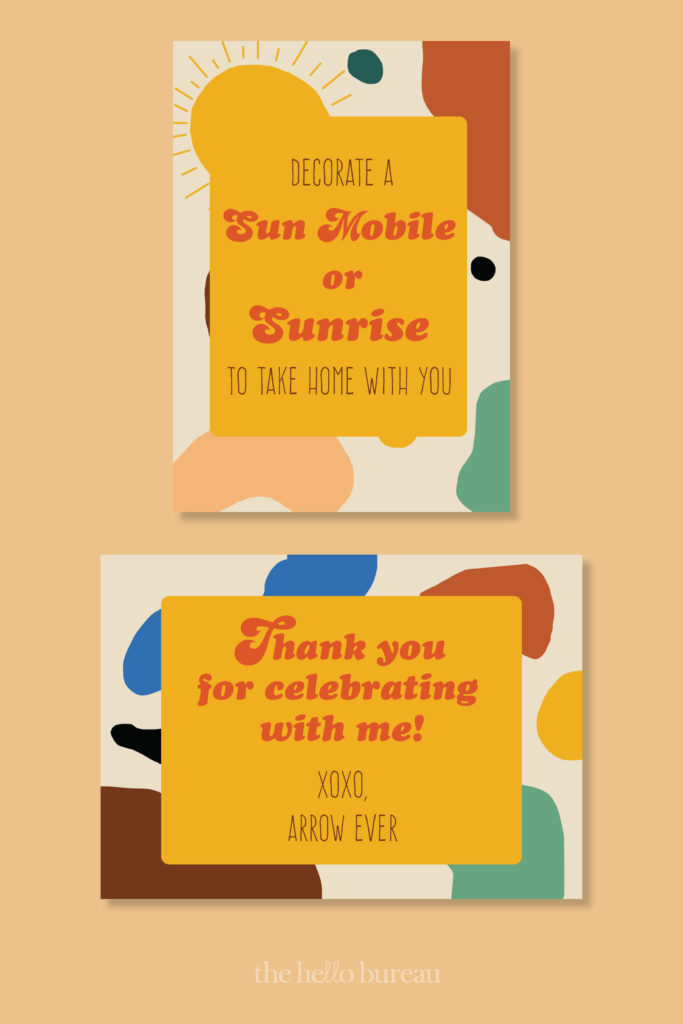 Avigail placed the printed signs in cute photo frames and arranged them on gorgeously decorated tables. (We love the flowers!)
The Food Labels
For the food labels, we created a printable template in Templett, so that Avigail could add any extra last-minute items herself if necessary. Through our experience, this is a great way for our clients to have instant access to the design to make quick changes.
The Thank You Card
The final piece of stationery from the set was a Thank You card that was sent out to guests post-event.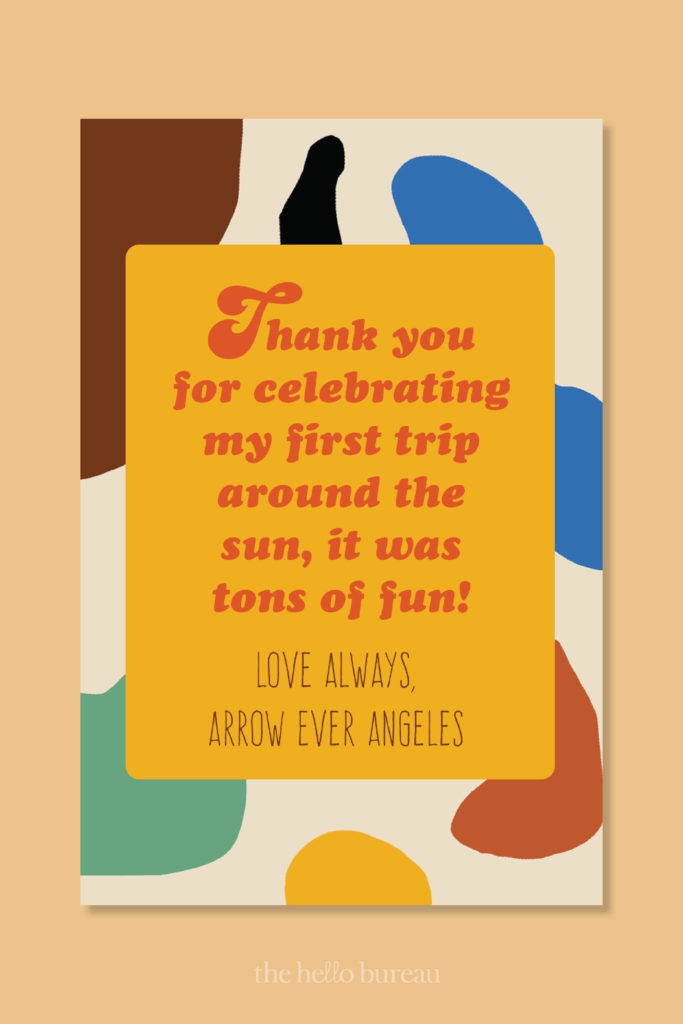 Overall, designing 'Arrow's First Trip Around The Sun' stationery was an incredible experience for me. I loved every moment of it, and seeing how happy Avigail was with the result was the cherry on top. It was heartwarming to know that The Hello Bureau played a small part of such a special day in Arrow's life.
—
The Hello Bureau is a creative design studio in Perth, Australia specialising in wedding and event stationery. With over 10 years experience in the industry, we seek to share our knowledge to help you with your creative wedding and event stationery projects. If you're interested in bespoke stationery for your wedding or event, please send us an enquiry.