With over 10 years of experience in the wedding stationery industry, we understand the significance of every detail on your big day. From the invitations to the decor, we've seen it all. Today, we're excited to share our expertise and offer valuable tips on an often overlooked aspect: wedding signage size.
These signs play a crucial role in guiding your guests and showcasing essential information such as menus. However, what many couples may not realise is that selecting the appropriate size for your wedding signs is just as vital as the design itself.
In this comprehensive article, we'll delve into the significance of wedding signage size and provide you with expert guidance to help you choose the perfect dimensions for your wedding signs. Let's ensure that every element of your wedding exudes perfection, starting with the right signage size.
Contents & Shortcuts
Why Wedding Signage Size Matters
The size of your wedding signage matters for several reasons. First, it affects the visibility of your signs. If your signs are too small, they may be difficult to read, and your guests may miss out on important information. On the other hand, if your signs are too big, they may overpower your wedding decor and become a distraction.
Second, the size of your wedding signs affects their functionality. For example, if your seating chart is too small, your guests may have difficulty finding their table. Similarly, if your menu sign is too small, your guests may have trouble reading it, which could result in confusion.
Lastly, the size of your wedding signs affects your budget. Larger signs require more materials, which means they may cost more. However, choosing the right size for your wedding signs can help you save money without sacrificing on quality.
Factors to Consider When Choosing the Right Dimensions for Your Wedding Signage
Several factors come into play when choosing the right dimensions for your wedding signage. These include the location of your signs, the number of guests you have, and the purpose of your signs. Here are some key factors to consider:
Location
Consider where you'll be placing your signs. If they'll be placed in a large open space, such as a garden or a beach, you'll need larger signs that can be seen from a distance. On the other hand, if your signs will be placed in a more intimate setting, such as a small indoor venue, smaller signs will work just fine.
Number of Guests
The number of guests you have will also play a role in determining the size of your wedding signs. If you're expecting a large crowd, you'll need larger signs that can be seen from a distance. However, if you're having a more intimate wedding, smaller signs will suffice.
Purpose
Consider the purpose of your signs. Are they meant to guide your guests to their seats, or are they meant to display your menu? Signs that are meant to guide your guests, such as seating charts and directional signs, need to be larger and more visible. On the other hand, signs that display information, such as menus and programs, can be smaller.
What Size Should My Wedding Welcome Sign Be?
Now that you understand the factors to consider when choosing the right dimensions, you may be wondering, "What size should my wedding welcome sign be?"
Let's take a look at some of the most common wedding welcome sign sizes. These sizes are based on an average wedding with 75-150 guests.
Standard Wedding Welcome Sign Size
Australia | UK | International
For countries that use the international ISO A standard, the most popular choice for wedding welcome signs is A1 size. This size measures 594 mm x 841 mm and is commonly preferred. A1 strikes the perfect balance for most wedding venues, being large enough to catch attention without being overly intrusive.
However, if you're planning an outdoor wedding or your venue boasts a vast open space, an A0 sign might be the ideal choice. With dimensions of 841 mm x 1189 mm, an A0 sign is larger and guaranteed to make a statement, ensuring it stands out amidst the surroundings.
SHOP Printable Welcome Sign Templates
USA | Mexico | Canada
When it comes to wedding welcome signs in the USA, Mexico, and Canada, the most common standard size is 18″ x 24″. This size has gained popularity among couples as it is a noticeable size but unobtrusive. It fits seamlessly into most wedding venues, ensuring it catches the attention of your guests without overwhelming the space.
Nonetheless, for those seeking a more prominent display, 24″ x 36″ is a fantastic choice. This larger sign guarantees a bold statement, especially if you're planning an outdoor wedding or have a venue with ample space. Its also perfect if you're planning to dress the sign up with flowers, as it offers extra edge space to play with. Its generous dimensions command attention and ensure that your welcome sign becomes a focal point, leaving a lasting impression on your guests.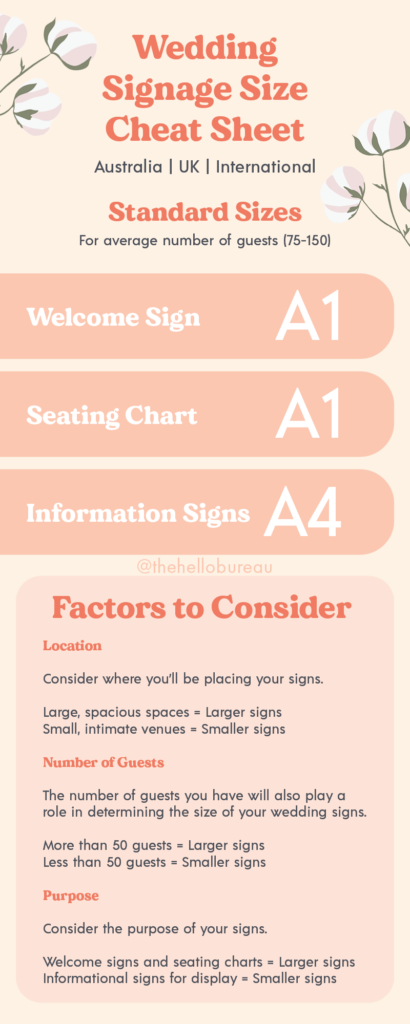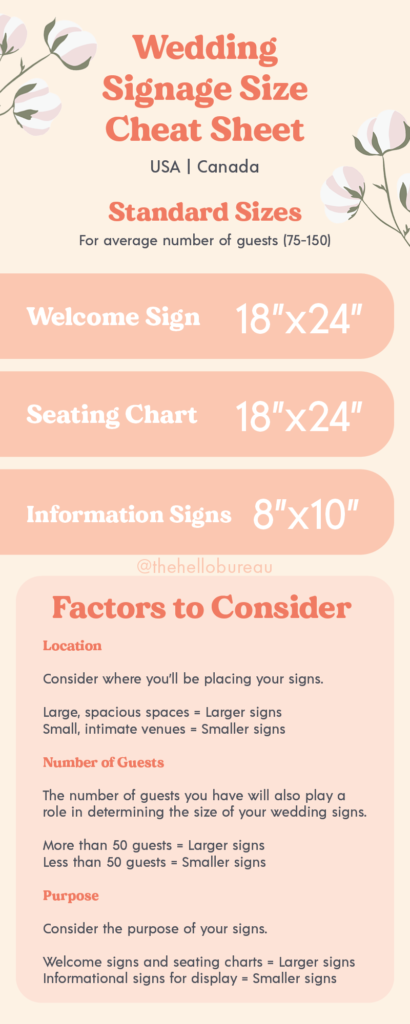 Choosing the Right Size for Other Wedding Signs
When choosing the right size for other wedding signs, such as seating charts and menus, consider the factors we discussed earlier. Here are some recommended sizes for common wedding signs.
Remember, these sizes are just recommendations, and you should adjust them based on your specific needs.
Seating Charts
When it comes to seating charts, it's recommended to use the same size as your welcome sign. As a general recommendation, this is A1 for Australia, UK and International; and 18″x24″ for USA, Mexico and Canada. However, the primary consideration for seating charts is legibility. It's crucial to ensure that the sign is large enough for your guests to easily identify their names and assigned seats. If you're expecting a large number of guests, it's advisable to choose a sign size that accommodates all the tables and names effectively.
Conversely, for intimate weddings with only a few guests, you have the flexibility to opt for a smaller size. This allows you to maintain a proportionate and visually pleasing display while still ensuring readability for your guests.
Remember, the key is to strike the right balance between size and legibility, tailoring it to the specific needs of your wedding. By doing so, you can create a seating chart that effortlessly guides your guests to their designated seats.
Menu Signs
Menu sign sizes can vary depending on where you intend to place them. There are several common options to consider. For those looking to save on printing and paper, large menu signs are a popular choice. Alternatively, you can opt for table menus, typically featuring a single menu placed in the middle of each table.
For large menu signs, we recommend sizes such as A2 or A1 (16″x20″ or 18″x24″), depending on the placement. These signs are commonly positioned at the entrance of the reception venue, allowing guests to peruse the menu before taking their seats. The size chosen should be large enough to display all the necessary information while still being easily readable from a distance.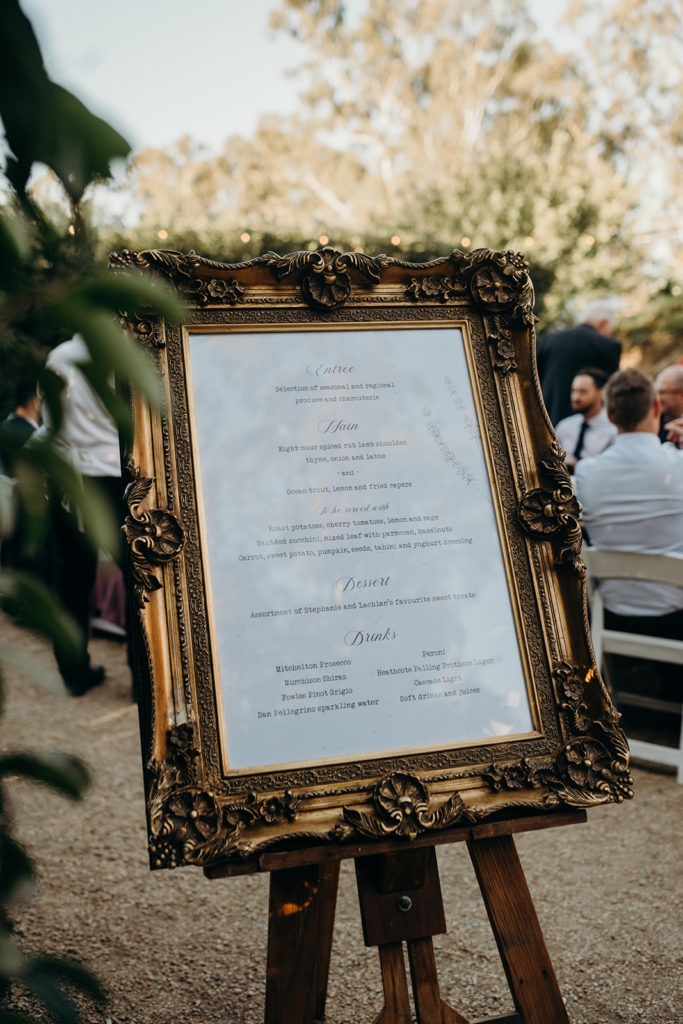 Table menus, on the other hand, should achieve the ideal combination between providing sufficient space for all the menu details and complementing the table decor without overwhelming it. For this purpose, we suggest using sizes like A5 or DL (5″x7″ or 4″x9″). These dimensions offer the perfect blend of functionality and aesthetic appeal, ensuring that guests can comfortably view the menu while enjoying the ambiance of their table setting.
Bar Signs
Bar signs are generally on the smaller side, although some couples opt for larger signs to enhance the overall bar aesthetics. The standard size for a bar sign is similar to that of table menus, typically A5 or DL (5″x7″ or 4″x9″). These sizes provide a compact yet visible display for the bar area.
However, if your bar offers a wide selection of beverages and you want to provide more detailed information, you can consider going up a size to A4 (8″x10″). This larger size allows for more space to showcase the various offerings and descriptions.
When placing the bar sign, it's important to ensure that it does not obstruct the drinks area. Most commonly, bar signs are positioned directly on the bar itself. So, it's crucial to select a size that doesn't interfere with the accessibility or functionality of the bar for both the bartenders and the guests.
Information Signs (Wishing Well, Guestbook, Reserved etc.)
Information signs serve as supporting signage to provide guidance or prompt your guests. The size of these signs typically depends on the area or table where they will be placed. A common range for information signs is between A5 and A4 (5″x7″ and 8″x10″). By choosing a size within this range, you can ensure that your information signs are easily visible without overpowering the surrounding space.
When determining the size of your information signs, consider the specific context and purpose. You want to maintain a delicate harmony between providing clear guidance and having a visually appealing display that seamlessly integrates into the overall event setup.
Tips for Designing Wedding Signs That Work With Their Size
Once you've chosen the right dimensions for your wedding signs, it's time to design them. Here are some tips for designing wedding signs that work with their size:
Keep it simple: Don't try to cram too much information onto your signs. Stick to the essentials and make sure the text is easy to read.
Use contrasting colours: Choose colours that contrast well so that your text is easy to read.
Use high-quality materials: Invest in high-quality materials so that your signs look great and last throughout your wedding day.
Consider the font: Choose a font that's easy to read, even from a distance.
Add a personal touch: Personalise your wedding signs with your names, wedding date, or other details that are meaningful to you.
Conclusion
Choosing the right dimensions for your wedding signs is just as important as choosing the right design. Your wedding signs play a crucial role in guiding your guests and displaying important information, so it's essential to make sure they're the right size for your venue and your crowd. By considering the factors we've discussed and following our tips for designing wedding signs, you can create beautiful and functional signs that enhance your wedding day.