Does this sound familiar? You've just gotten engaged and have been busy pinning your dream wedding ideas on Pinterest and saving Instagram posts. Now the time has come to actually contact vendors and ask for quotes. You've seen a gorgeous wedding invitation set online, enquired and received a quote that's way over budget. The good news is that it's pretty simple to find someone to print your invitations for almost half the price! If you're looking for places to print wedding invitations in Australia, we're here to help.
In our experience, it's much easier having your design ready before contacting printers. We've designed our editable wedding invitation templates for this very reason. The templates offer you the convenience of designing your invites in the comfort of your own home. And because you get to customise the wording on the templates, it saves you time and money that would otherwise be spent on a graphic designer.
Printing your own invitations can be a fun and creative way to announce your wedding to your guests. Here is our list of recommended invitation printers delivering to Australia. We've chosen them because all your printing can be ordered online through their website and delivered straight to your door.
Although MOO is located in the UK, they have exceptional print quality and a fast turnaround time. The ordering process is pretty simple and a great option if you are after thick card for your invitations (we recommend the Luxe paper for ultra-thickness; however, the original matte invitations coated on both sides are pretty luxe in themselves). We have used MOO on multiple occasions for our projects – you can check out one of those projects here.
Invitation sizes available:
Small (A6) – 105mm x 148mm
Medium – 127mm x 178mm (also known as 5″x7″)
A5 – 148mm x 210mm
Square – 120mm x 120mm
DL – 99mm x 210mm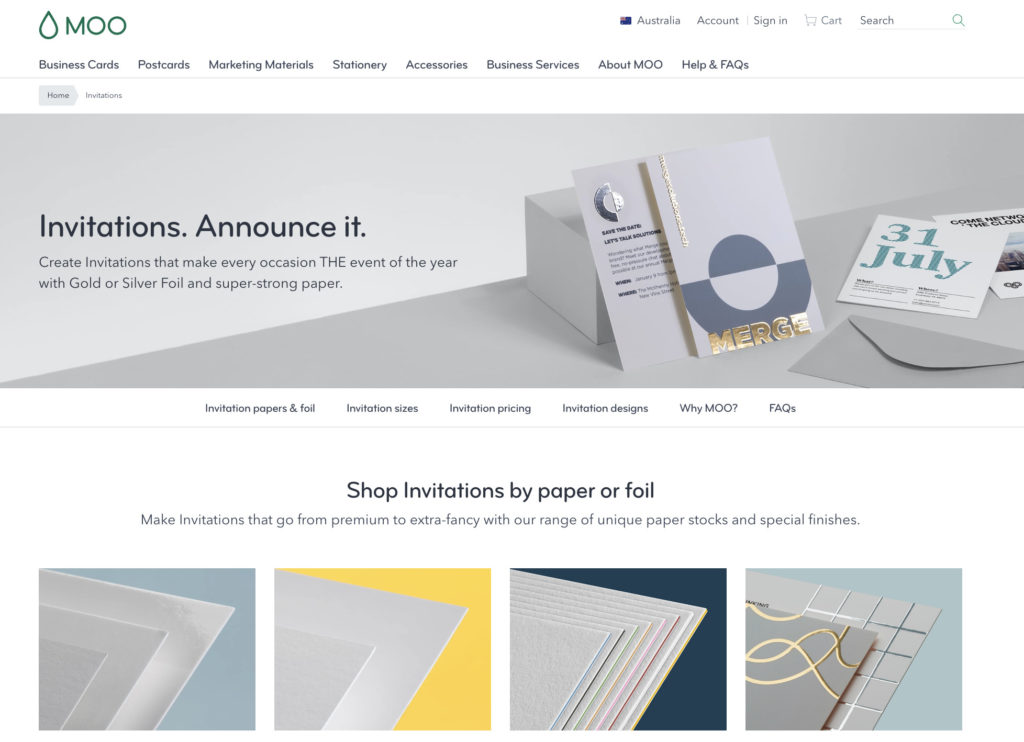 Officeworks has a user-friendly ordering system where you can simply upload your file and review everything on screen. They have a range of different premium paper options including linen, 100% recycled and kraft.
Invitation sizes available:
Located in Perth, Western Australia, Peterkin has more paper stocks than any other print supplier that we know of. The ordering process is quite easy and you can upload your files when you are choosing your paper. Along with invitations, Peterkin also provide coloured envelopes, sleeves, envelope address printing and much more. We've worked with Peterkin heaps and they are a very friendly and helpful team.
Invitation sizes available:
A6 – 105mm x 148mm
Medium – 120mm x 180mm
A5 – 148mm x 210mm
DL – 99mm x 210mm
70mm x 120mm
80mm x 135mm
Square – 140mm x 140mm; 100mm x 100mm; 120mm x 120mm
Based in Brisbane, ePrint Online offer a comprehensive invitation printing service including specialty print options such as foiling and vellum. You can easily upload your design onto their website and order your invitations in a few minutes. With a variety of premium invitation paper options including linen, kraft and cotton, ePrint can help make printing your DIY invitations a breeze.
Invitation sizes available:
A6 – 105mm x 148mm
A5 – 148mm x 210mm
5″x7″ – 127mm x 178mm
4″x6″ – 100mm x 150mm
DL – 99mm x 210mm
Custom sizes available
VistaPrint is a one-stop-shop for printing wedding stationery. Along with invitations, they also print stickers, signage and on-the-day decor. For those who haven't found a design yet, VistaPrint provides a collection of pre-designed templates to choose from. When it comes to invitations, they offer a selection of premium cardstock options, including matte, glossy, linen, pearl and recycled.
—
Please note that some of the links in this post are affiliate links and any purchase made through the links will give us a small commission (at absolutely no extra cost to you). These are brands that we trust and choose to recommend because we love what they do. Please read our Affiliate Disclaimer for more info.