When it comes to planning a wedding, every detail matters. From the venue to the flowers, couples want everything to be perfect on their special day. One often overlooked aspect of wedding planning is the stationery. Wedding stationery plays a crucial role in setting the tone for your event and providing important information to your guests. It not only adds a touch of elegance but also serves as a keepsake for you and your loved ones. Let's talk about the importance of wedding stationery and why it shouldn't be underestimated.
Contents & Shortcuts
Wedding Stationery Checklist
Planning a wedding can be overwhelming, with so many details to consider. To ensure that you don't miss anything, it's important to have a wedding stationery checklist. A checklist will help you stay organised and ensure that you have covered all the essential stationery for your wedding. In this section, we will provide you with a comprehensive wedding stationery checklist to guide you through the process.
Feel free to save or pin the following checklist for your reference:

Save The Date Cards
Your wedding stationery begins with the save the date cards. These cards are the first glimpse your guests will have into your wedding. They provide the essential details such as the date and location of your special day. Save the date cards also give you an opportunity to showcase your creativity and personal style. Whether you choose a classic design or something more unique, these cards set the stage for what's to come. Digital save the dates have become increasingly popular in recent years, and for good reason. They offer several advantages over traditional printed cards, making them an attractive and affordable option for modern couples.
Choose a design that reflects your wedding theme and style.
Include the date and location of your wedding.
Consider adding a personal touch, such as a photo or a short message.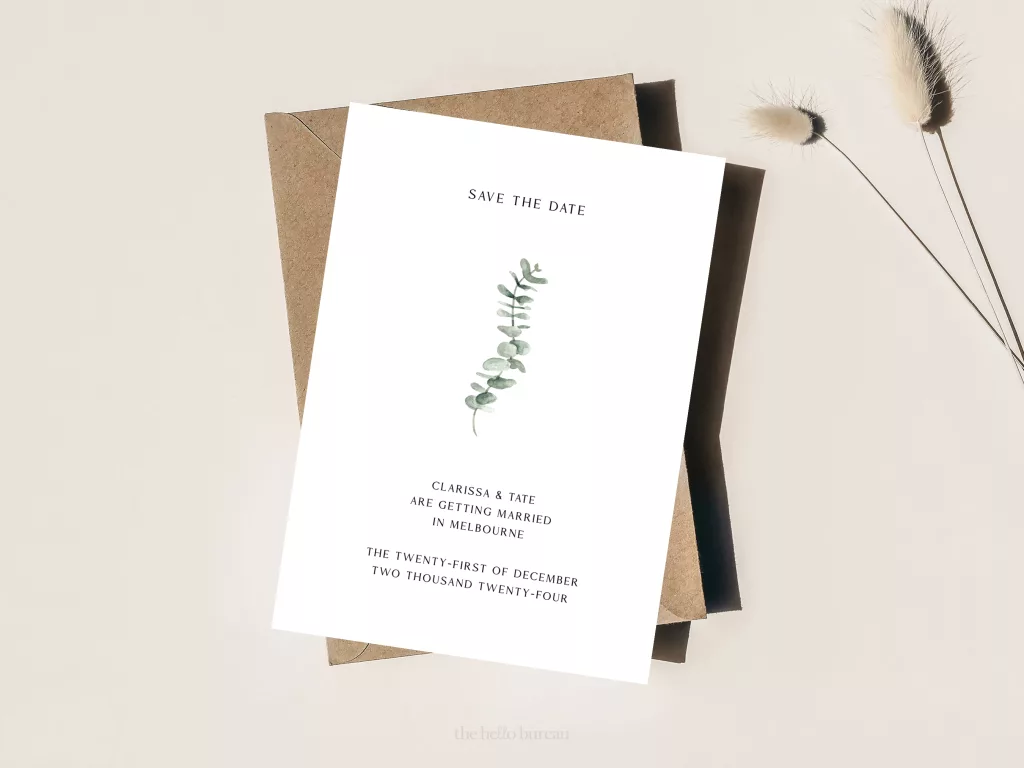 Wedding Invitations
Next on the list are the wedding invitations. These formal invitations are an essential part of any wedding stationery suite. They not only convey the necessary details but also reflect the overall theme and style of your wedding. From elegant calligraphy to intricate designs, wedding invitations are a work of art. They create anticipation and excitement among your guests, giving them a glimpse of what they can expect on your big day.
Select a design that complements your wedding theme or personal style.
Include all the necessary details, such as the venue, date, time, and RSVP information.
Decide on the wording and format of your invitations.
Don't forget to include any additional information, such as website address, gifts, dietary requirements, accommodation options or dress code.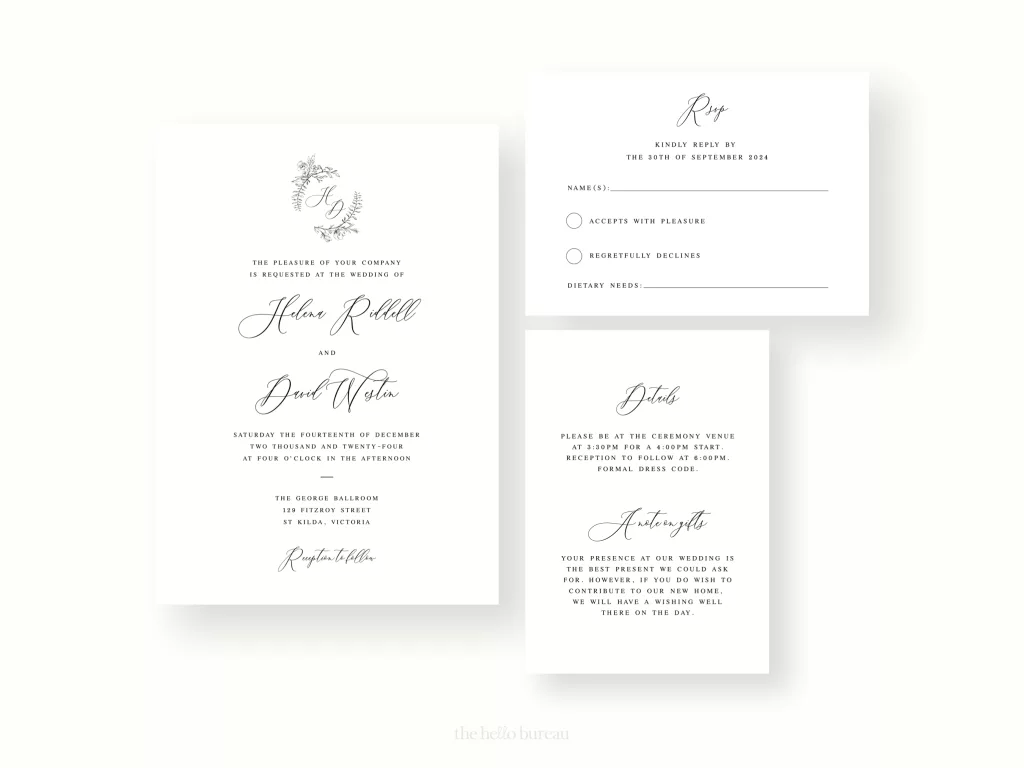 On-the-day Stationery
Once the wedding invitations have been sent out, it's time to plan your on-the-day stationery. This includes items such as:
Menu cards
Place cards
Table numbers
Signage (Welcome sign, seating chart, informational signage, directional signage)
Ceremony programs
Bombonierre/favour tags
Thank you cards (sent out after the wedding to thank guests for their attendance and/or gifts)
While these may seem like minor details, they add a touch of sophistication and organisation to your wedding.
Ceremony programs guide your guests through the order of events, while menu cards provide a preview of the culinary delights to come. Place cards ensure a seamless seating arrangement, and table numbers act as a guide for your guests to find their tables.
Having clear and concise signage is one of the most important elements of on-the-day stationery. For many of your guests, this will be their first time attending your wedding venue. As such, it's highly likely that they will rely on clear and well-placed signs to easily find parking, the ceremony venue, and the reception area. Making sure the signage is easy to understand and directs them to where they need to go will enhance their overall experience and avoid any unnecessary confusion on the big day.
ALSO: Why Wedding Signage Size Matters: Tips For Choosing The Right Dimensions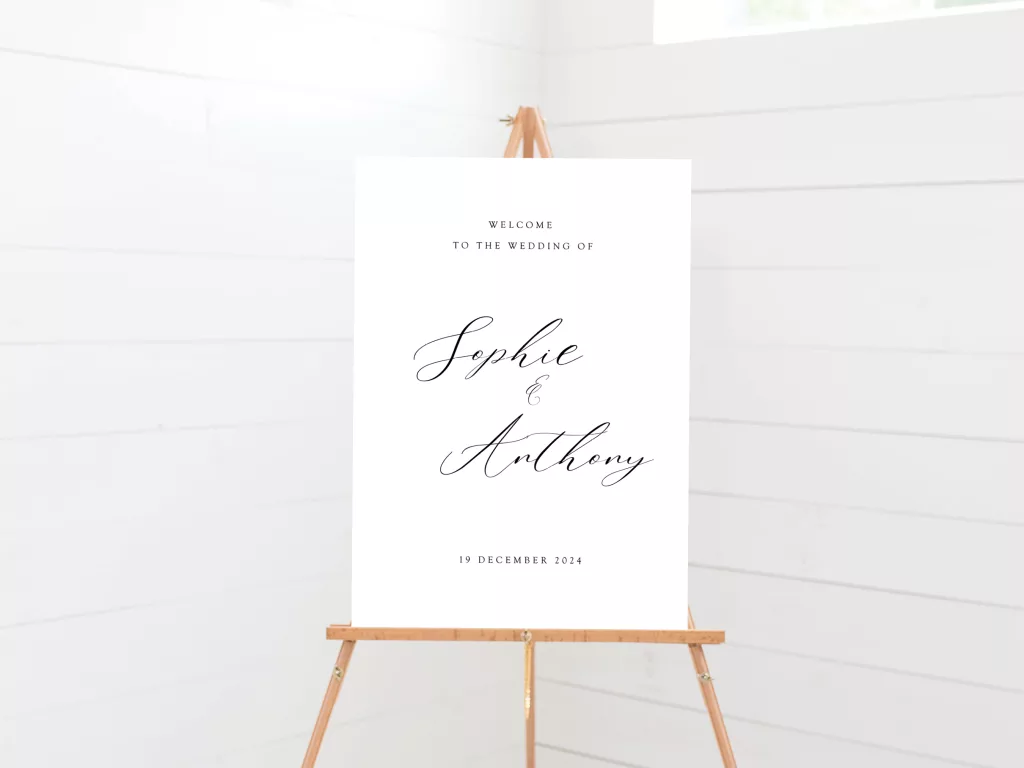 Additional Stationery
Below is a list of additional stationery items that we consider optional, as they are not essential for every wedding. Since each wedding is unique, some of these items may not be applicable to yours. Feel free to pick and choose based on your preferences and needs.
Engagement party invitations
Engagement party on-the-day stationery
Bridal shower invitations
Bridal shower on-the-day stationery
Hens and Bucks party invitations
Hens and Bucks party on-the-day stationery
Rehearsal dinner invitations
Rehearsal dinner on-the-day stationery
Conclusion
In the grand scheme of wedding planning, stationery may seem like a small detail. However, its importance should not be overlooked.
Wedding stationery sets the tone for your event, provides essential information to your guests, and serves as a cherished keepsake for years to come. From save the date cards to on-the-day stationery, each piece plays a vital role in creating a stunning and memorable wedding.
When planning your special day, it's crucial to give due importance to your wedding stationery. For an easy way to design your own stationery, we recommend scouting Etsy for wedding stationery templates. Alternatively, collaborating with a professional stationery designer will ensure you're guided throughout the process, and they will take care of managing the timelines for you.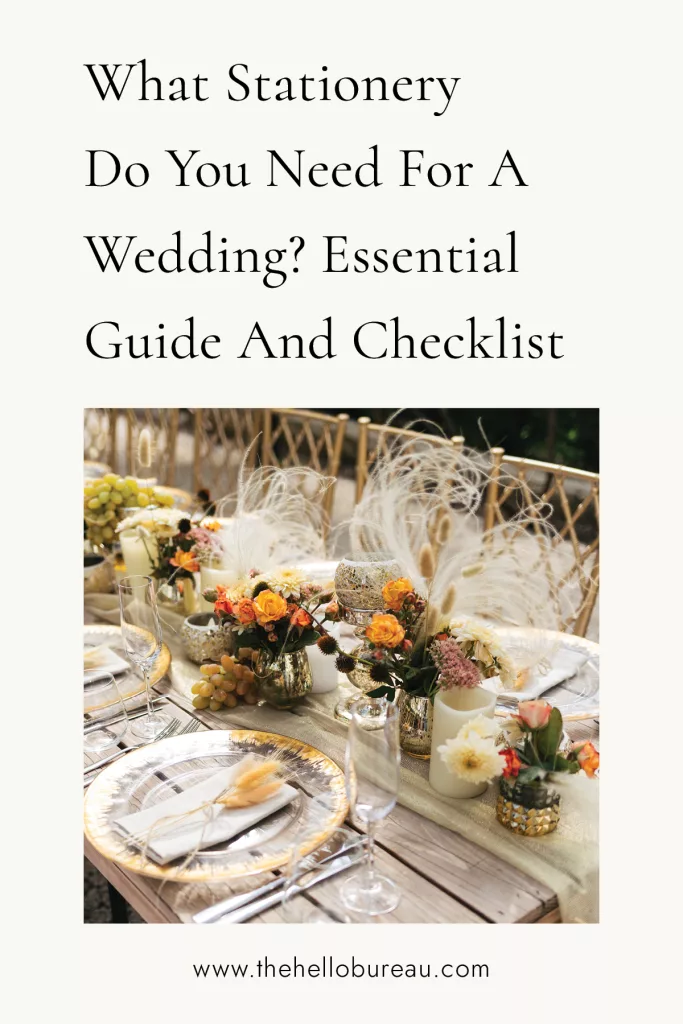 —
Please note that some of the links in this post are affiliate links and any purchase made through the links will give us a small commission (at absolutely no extra cost to you). These are brands that we trust and choose to recommend because we love what they do. Please read our Affiliate Disclaimer for more info.